LJFS organized All Island Inter-School Essay Competition 2016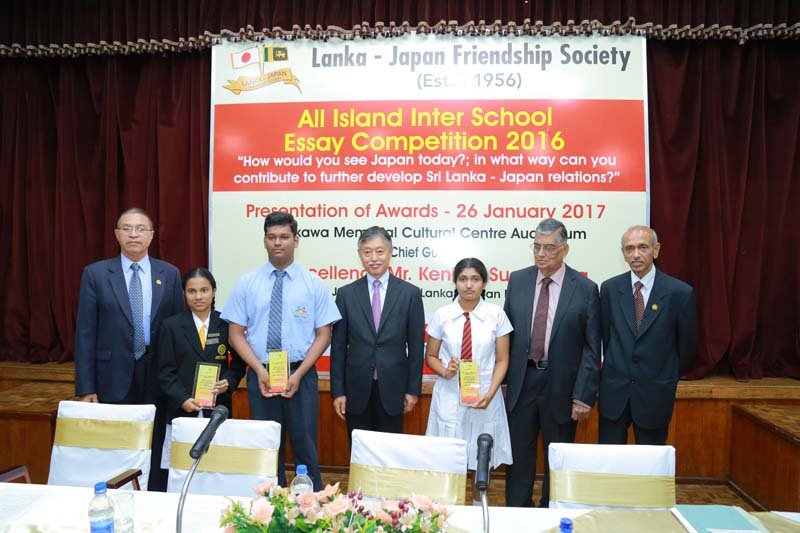 "The Lanka Japan Friendship Society held their awards ceremony of the above Essay Competition on 26th Jan 2017 at the Sasakawa Cultural Centre Auditorium under the distinguished patronage of His Excellency Kenichi Suganama, Ambassador for Japan in Sri Lanka who was the Chief Guest.
President Sumana D. Liyanage welcoming the Guests and the participants of the Essay Competition stated that the objective of having this Essay Competition was to educate the younger generation, the future leaders of this country, in regard to Lanka Japan relations, and hoped that this land mark event will create awareness among the youth of this country to consolidate and develop the existing friendship ties between Sri Lanka and Japan.
Chief Guest and Patron of the Lanka Japan Friendship Society H.E Kenichi Suganuma congratulated the President and Executive Committee of the Society for organizing this very meaningful project for the first time, and requested the Society to continue this project as it will help the younger generation of this country to understand Japan and develop a closer relationship with Japan
Reinuja Sathnidu Ratnayke of Gateway College Colombo, winner of the 1st Prize in the English medium in his appreciation speech, mentioned that he entered the competition at the request of his teacher and at that time he had no knowledge about Japan. He then read about Japan and also did research through the internet and now he has obtained a good knowledge about Japan and its people. He thanked the LJFS for organizing this event.
The panel of Judges consisted of Professor Kusuma Karunaratne of the University of Colombo, Dr. Romola Rassool of the University of Kelaniya and Mr. M. Senthilnathan, Chief Operating Officer of Express News Papers of Ceylon Ltd.
Media Sponsors were (Island and Divaina), Upali Newspapers of Ceylon Ltd and (Veerakesari) Express Newspapers of Ceylon Ltd
Nine (9) award winners of the Gold, Silver and Bronze category and sixteen (16) Merit Certificate Awardees from schools all over the island were awarded cash prizes, gift vouchers, mugs and certificates at a glittering awards presentation ceremony attended by students, parents, school principals, invitees and members of the LJFS .
Three (3) 1st prize winners of the Gold category below were awarded Rs: 25,000/- each and they are:
-Miss: K.W.K.B. Githmi Madushani of Anula Vidyalaya, Nugegoda for Sinhala; Miss. Theepika Arulananthan of Chundukuli Girls College, Jaffna for Tamil and Mr. Reinuja Sathnidu Ratnayake of Gateway College, Rajagiriya for English.
Six other winners of the Silver and Bronze categories were awarded Rs: 20,000/- and Rs: 15,000/- each respectively and they are: (Silver) D.P.T. Diyathala Pathirana (Visaka Vidyalaya, Colombo) for Sinhala, M.L.M. Shiran Salman (Zahira College, Kalmunai) for Tamil and N. Aaruran (St. Benedicts College, Kotahena) for English; (Bronze) W.A.K. Madhushanki Wickramarachchi (Shantha Bernadette MV, Polgahawela) for Sinhala, K. Gobika (Tamil M.V, Balangoda) for Tamil and H.A. Dharmasekera (St. Thomas College, Mt. Lavinia) for English.
Project Chairman Mr. M.D. (Tony) Saldin also addressed those present. The vote of thanks was delivered by Mr. Chandra Jayatilleka, Hony General Secretary /LJFS."